WARNING: EXPLICIT MATERIAL
Shondor Birns
Birth Name:
Alexander Birnstein
Birth Date:
February 21, 1907
Birth Place:
Lemes, Czechoslovakia
Death Date:
March 29, 1975
Place of Death:
Outside Christy's Lounge, 2516 Detroit Avenue, Cleveland, Ohio
Cause of Death:
Homicide - Car Bombing
Cemetery Name:
Hillcrest Memorial Park Cemetery
Claim to Fame:
Crime and their Victims
Shondor Birns was a notorious criminal in Cleveland, Ohio who was involved in loan sharking, rackets, prostitution, theft, assault, and murder from the days of Prohibition until his violent, explosive death. Birns operated the Ten-Eleven Club and the Alhambra restaurant, often treating off-duty policemen, lawyers, and journalists who in turn helped keep him out of jail for most of his criminal career. Birns fortunes took a turn for the worse when the death of boss John Scalish had put Birns and Danny Greene on opposite sides of a mob dispute with Greene supporting challenger John Nardi and Birns supporting the heir apparent gangster James T. Licavoli. Add to that Birns secured a loan for Greene from the Gambino Crime Family which never materialized. Birns nevertheless demand payment in full for the non-existent loan to Greene. When no payment was forthcoming Birns tried to have Greene assassinated only to have the tables turned and Greene orchestrated the most horrific car bombing in Cleveland history with Shondor Birn's body parts spread over 100 feet from the bomb site.
---
Do not read this after a full meal …
In March 1975, Holy Saturday, the eve of Easter, Birns was blown up via a bomb containing C-4, a potent military explosive, in the lot behind Christy's Lounge, a go-go spot at 2516 Detroit Avenue where Birns spent the night and early morning at this seedy strip club. Birns was blown several feet through the roof of the car and his torso landed near the passenger door. Apparently Birns, still alive, his upper torso dragged from the explosion. His face, arms and chest blackened, Birns' nose was broken when his body landed on the street after being blown out the top of his car. His hair was scorched off from the heat of the blast as Birns had been blown in half. His severed legs landed fifty feet away and other smaller parts of him were scattered all over the place. Towards his death, the upper part of his body was convulsing violently. A chain link fence between Christy's and St. Malachi Church caught many of the smaller fragments of flesh and bone. At first glance, they resembled steaming pieces of meat.
And yes, Danny Greene planned the hit using a Hells Angels member Enis "Eagle" Crnic to kill Birns for a fee of $7,500.
Cemetery Information:
Final Resting Place:
Hillcrest Memorial Park Cemetery
26700 Aurora Road
Bedford Heights, Ohio, 44146
USA
North America
Map: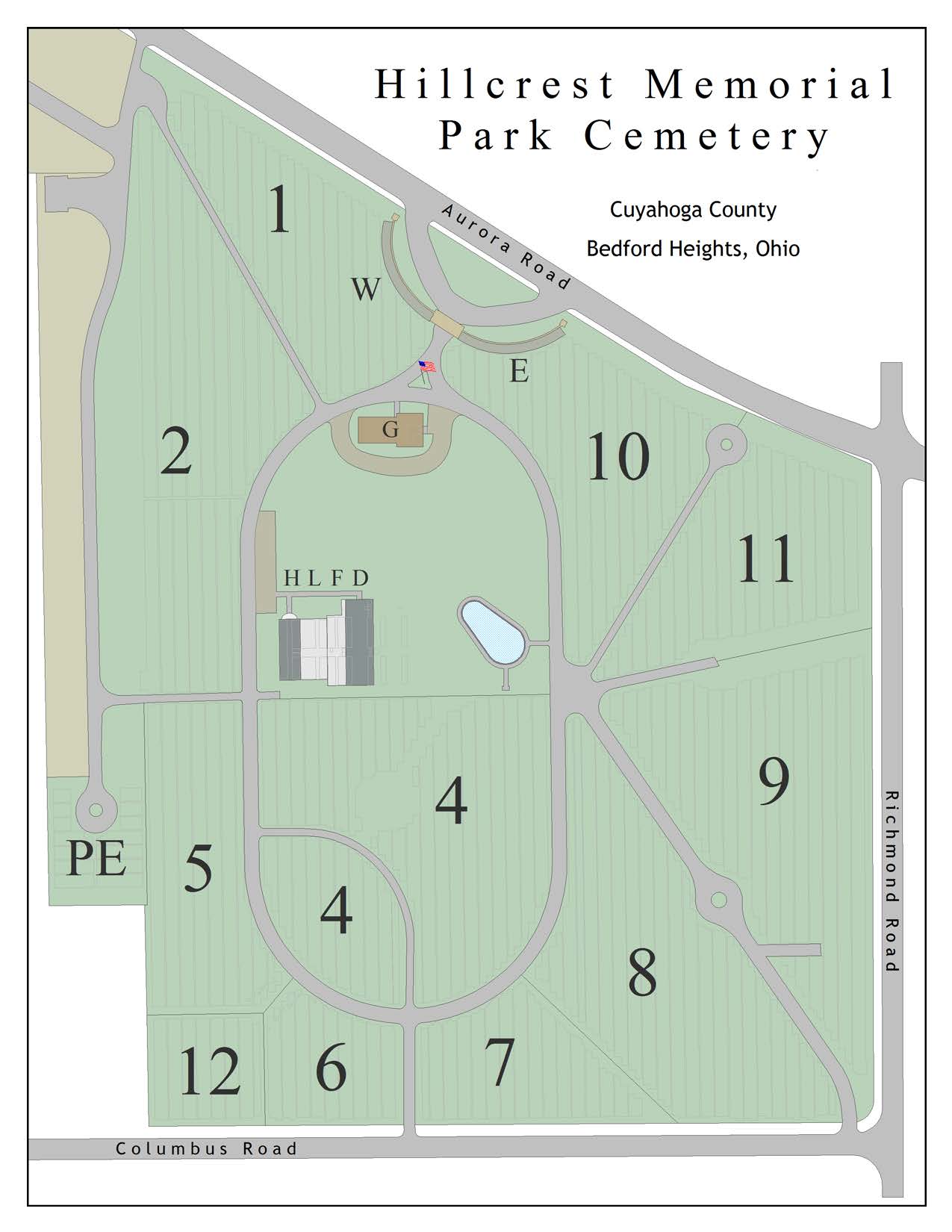 Map of Hillcrest Memorial Park Cemetery in Bedford Heights in Ohio
Grave Location:
Mausoleum, Love Corridor
Grave Location Description
As you enter the mausoleum from the parking lot, take the first left down the center of all four sections and look to your right for the Love Corridor. Shondor Birns is interred on the left, two spaces from the floor and two spaces from beginning of the corridor.
Grave Location GPS
41.40426423, -81.491984
Photos:
Read More About Shondor Birns:
Videos Featuring Shondor Birns:
See More:
Back to Top