Patrick J. Kennedy
Birth Name:
Patrick Joseph Kennedy
Birth Date:
January 14, 1858
Birth Place:
44 Liverpool Street, Boston, Massachusetts
Place of Death:
Deaconess Hospital, Boston, Massachusetts
Cause of Death:
Liver disease
Cemetery Name:
Holy Cross Cemetery and Mausoleum
Claim to Fame:
Historical Figure
Patrick Joseph Kennedy (P.J. to his friends and grandfather to President John F. Kennedy) was the son of Irish immigrants. His father, Patrick Kennedy, died of cholera ten months after he was born while his mother, Bridget Kennedy, who also had three daughters, found work as a clerk in a shop. Working in the shipyards after high school, Kennedy borrowed money from his mother and sisters to purchase a run-down saloon in a poor area of Boston. Although he was himself a teetotaler, the business venture was a success and he was soon able to obtain a second saloon. Kennedy purchased a third bar in an upscale East Boston hotel, the Maverick House. Before he was thirty, his growing prosperity allowed him to buy a whiskey and fine liquors importing business, P.J. Kennedy and Company. In 1887 Kennedy married Mary Augusta Hickey, the daughter of a prosperous businessman in the city. A member of the Democratic Party Kennedy was elected to the Massachusetts Senate in 1892 where he worked behind the scenes as a party boss. After leaving state politics, Kennedy held various appointed positions in the city including elections commissioner, fire commissioner, and wire (electricity) commissioner. He continued his business career by helping to incorporate two Boston financial institutions, the Columbia Trust Company and the Sumner Savings Bank.
---
Fun Facts
Here's a quick look at the legacy of Patrick Joseph Kennedy Jr. In 1914, P.J. Kennedy's son Joseph married Rose Fitzgerald (1890–1995), the eldest daughter of Boston Mayor John F. Fitzgerald (1863–1950). Joseph P. Kennedy Sr. went on to become a U.S. Securities and Exchange Commission Chair and a U.S. Ambassador to the United Kingdom. Joseph and Rose Kennedy had nine children, including World War II casualty Joseph P. Kennedy Jr., U.S. President John F. Kennedy, Attorney General of the United States and U.S. Senator Robert F. Kennedy, and U.S. Senator Ted Kennedy.
Rarely have the Kennedys' summers and year round residency at Winthrop, Massachusetts been discussed in the scores of books written about this famous family. Few people know that Winthrop was the first Hyannisport. Patrick Kennedy and family began summering in Winthop in 1912, initially living at 159 Locust Street. The move to 97 Washington Avenue three years later was a step up from the charming but modestly scaled housing of the Floyd development to the stylish and substantial residences of Washington Avenue.  Shortly after the move the home on Washington Avenue became Patrick Joseph Kennedy's permanent, year round residence.
Cemetery Information:
Final Resting Place:
Holy Cross Cemetery and Mausoleum
175 Broadway
Malden, Massachusetts, 02148
USA
North America
Map: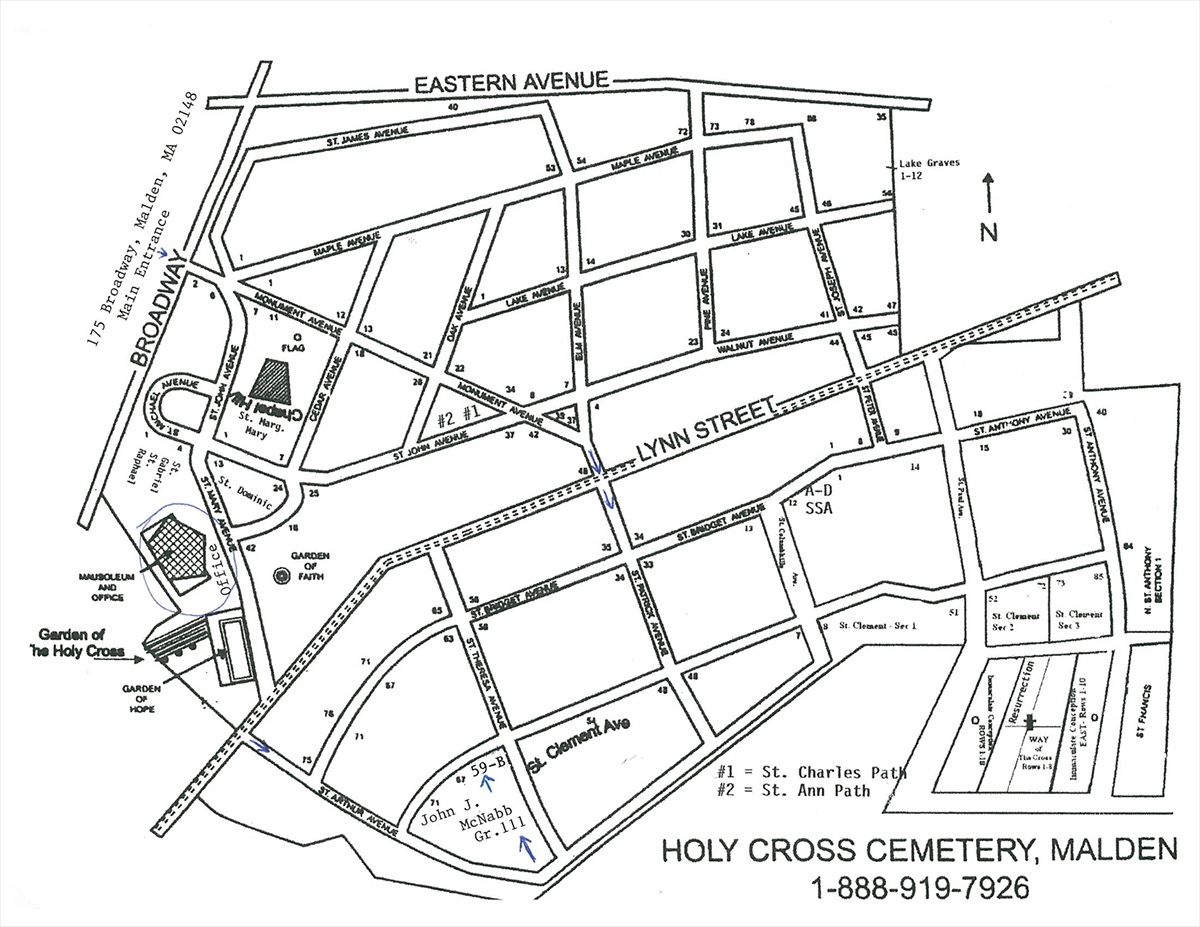 Grave Location:
Plot 3 North Maple Avenue, Grave 31 West
Grave Location Description
As you enter the cemetery gates off Broadway, take the first hard right and park in front of the abandoned red brick office building. From the telephone pole on your right, walk four rows up into the lawn section for the final resting place of the grandfather of President John F. Kennedy – Patrick J Kennedy Jr. (or P.J. to his friends).
Grave Location GPS
42.42913946577451, -71.04008729909633
---
Visiting The Grave:
Photos:
Read More About Patrick J. Kennedy:
Videos Featuring Patrick J. Kennedy:
See More:
Back to Top