Robert McGonagle
Birth Name:
Robert A. McGonagle
Birth Date:
February 14, 1948
Birth Place:
Boston, Massachusetts
Death Date:
March 10, 1987
Place of Death:
Boston, Massachusetts
Cause of Death:
Drug overdose
Cemetery Name:
New Calvary Cemetery
Claim to Fame:
Crime and their Victims
Robert "Bobby" McGonagle was a Boston fireman and member of the Mullen crime family in South Boston. McGonagle's family were heavily connected to Boston's underworld primarily involved in burglary, auto theft, and armed robbery. His brothers, Donald and Paul, who were twins, were killed by Whitey Bulgar during a war between their Mullen gang and Whitey Bulger's Killeen gang. One was killed in 1969, the other in 1974. Bobby McGonagle himself was also wounded in a gang battle in 1974. To make it even more confusing, Bobby married Catherine Greig who later went underground for 16 years as Whitey Bulger's girlfriend.
---
Fun Fact:
Mullen gang leader and Bobby's brother was married to Margaret Greig. Her identical twin sister, Catherine  Greig was married to Bobby. The Greig sisters had a younger brother David Grieg. Paul McGonagle was murdered by Whitey Bulger who had also killed their brother Donald McGonagle a couple years earlier.  Catherine later divorced Bobby before taking up with Winter Hill Gang leader Whitey Bulger. David Grieg allegedly committed suicide (even though the gun was found far away from the body) in Cape Cod a couple of years later.
Trust me – it's way more complex than this.
Cemetery Information:
Final Resting Place:
New Calvary Cemetery
800 Harvard Street
Mattapan, Massachusetts, 02125
USA
North America
Map: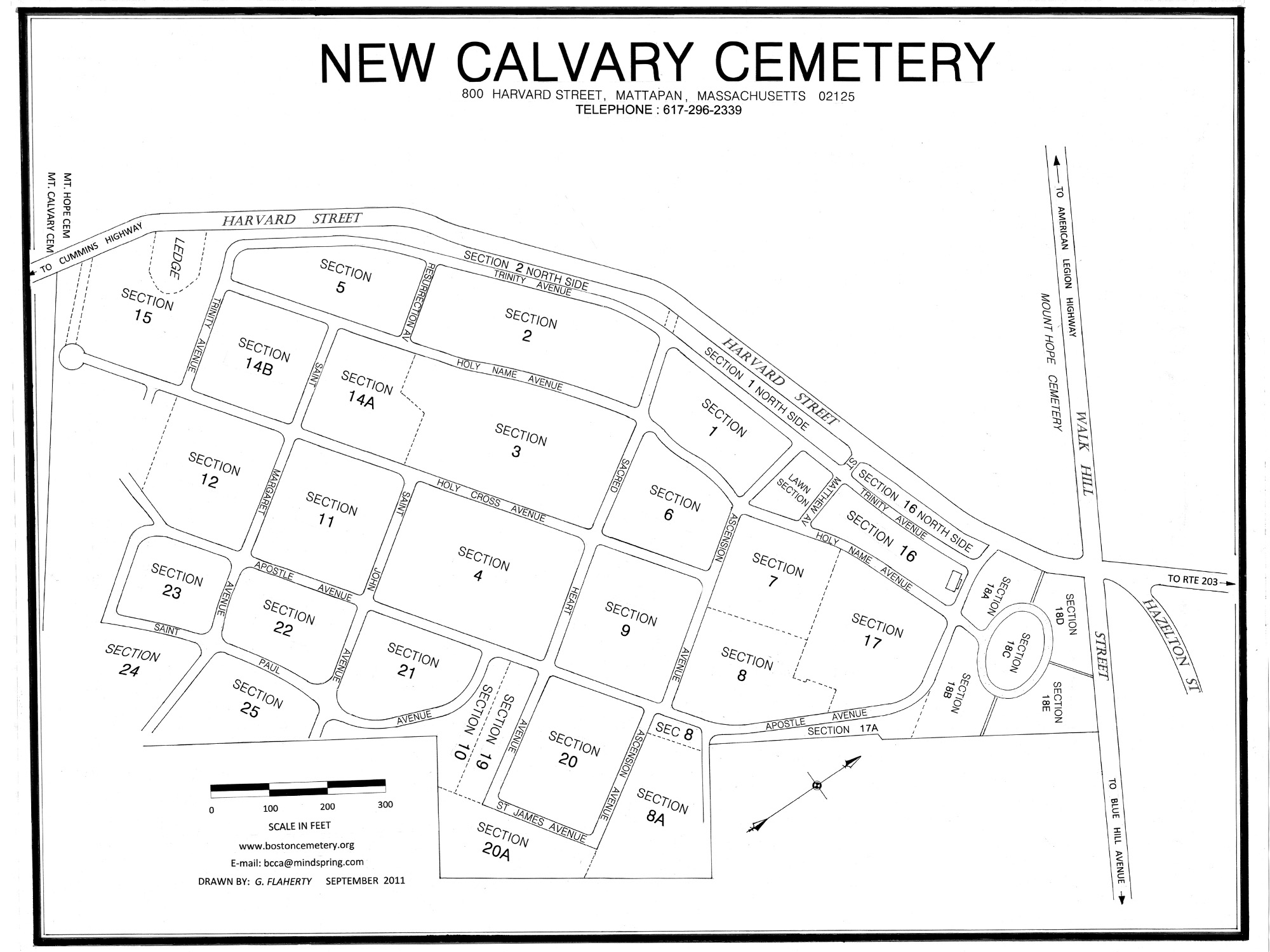 Cemetery map of New Calvary Cemetery in Mattapan, Massachusetts.
Grave Location:
Section 8, Grave 1396
Grave Location Description
As you enter off of Harvard Street, drive straight on Apostle Avenue and past the office on your right as the road begins to curve to the right. Park at the intersection of Apostle Avenue and Ascension Avenue. The McGonagle family monument is 20 feet from the corner of Section 8/8A, under a tree.
The confusion occurs when you look at the cemetery map Section 8 is bisected by Apostle Avenue. Bobby is buried in the short Section 8 on the left when you drive in from the entrance.
Grave Location GPS
42.27949404, -71.10102638
Photos:
Read More About Robert McGonagle:
Videos Featuring Robert McGonagle:
See More:
Back to Top